MCN Exclusive: Norton's new owners will fulfil outstanding orders
|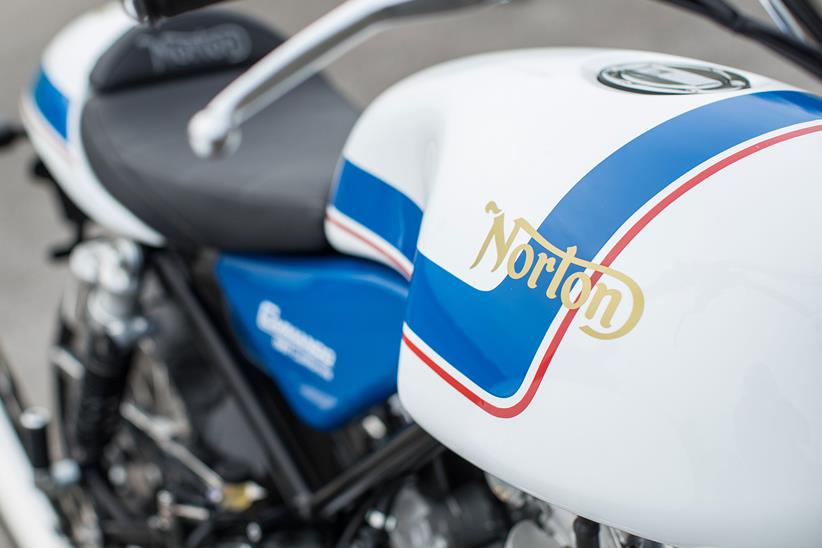 Norton Motorcycles has been sold to Indian motorcycle giant TVS Motor Company in a £16million cash deal that will see manufacturing remain in the UK, while those who paid deposits will finally receive their bikes.
Under the agreement, a subsidiary TVS Motor Company has acquired Norton, as well as a licence to occupy the existing manufacturing premises for the next six months, after which they will build a new factory in the UK. Speaking exclusively to MCN, Sudarshan Venu, Joint Managing Director of TVS told us their first aim is to rebuild the brand.
"The most important thing for us is to build on Norton's legacy and restore it to its original glory," said Venu. "We want to delight customers around the world and take Norton into the future."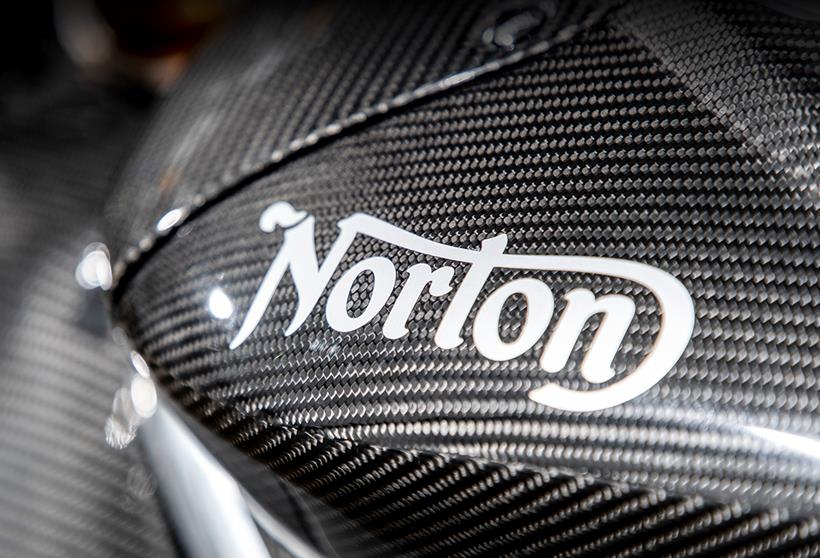 If you're not familiar with the TVS Group, they were founded in 1911 and have grown into a multi-billion pound manufacturing company.
As well as manufacturing their own bikes, they also build bikes for other companies (such as BMW's G310GS and G310R) with 3-4 million bikes per year not uncommon, although despite their size they had never looked at buying Norton prior to them being in administration.
What next for Norton?
Administration aside, the acquisition ought to propel Norton's growth by leveraging TVS Motor Company's global reach and supply chain capabilities, as well as tapping into the firm's huge resources and manufacturing scale.
They intend to continue with the current range including the Commando, Dominator and V4 models as well as bring new bikes to market including the upcoming 650cc parallel twin Atlas models.
"We will stay at the current premises for six months but look to move after that," added Venu. "We have strong connections to the Midlands, having worked with the Warwick Manufacturing Group since the 1980s. We have a technical centre in Warwick that already has 40 TVS staff and we will look to build on that."
As part of their takeover TVS confirmed all of the current staff will be employed in the takeover as will the design team although former CEO Stuart Garner will be no part of the new business. To get things going as quickly as possible they have already appointed an interim CEO formerly of Land Rover and Harley-Davidson who has already visited the factory ahead of an imminent return to production.
Five year plan
But TVS do not intend to turn Norton into a high-volume brand. "We will continue to build the current range, which is the core of Norton and focus on large capacity machines," said Venu.
"Hopefully we will expand globally and perhaps build more plants around the world. We hope to restart building as soon as possible but there are issues to work with considering the company's recent challenges. As long as parts meet the quality and Norton-ness of what is needed, we will work with those brands to make it a reality."
"I have always loved the craftsmanship and the unique British design. It has a tremendous charm and an enormous legacy. While TVS now owns Norton, and it's very much a part of TVS, we want to ensure Norton has its own legacy, its own brand, its own identity and its own management in the UK.
"We want to cater to the people who really value Norton and we will do whatever is needed to ensure that the customers of Norton get the best bikes. Norton is in a safe pair of hands."
---
What now for Norton?
The big question now is what happens to Norton going forward? Is there a future for the Norton brand and what about all the people who have lost millions of pounds along the way?
Let's deal with the Norton brand and business first. When BDO were appointed administrators of Norton it meant their job was not only to find out what went wrong but also to see what could be done to get the most amount of money back for all the creditors.
The ideal outcome in this situation would have been if the business could be recovered and sold as a going concern – ie continue trading as normal with some new arrangements in place. However, BDO quickly determined that given the outstanding debts of the business, this was unlikely – but not impossible. Read on…
The next objective that is currently being pursued is to get something better than if the company was just wound up. At the moment while Norton isn't trading all of the staff are currently still employed and being paid a salary. This means that should someone come in now wishing to purchase the business, they wouldn't be starting completely from scratch.
The final option that remains for BDO would be to shut Norton up completely and sell off parts of the business to the highest bidder. This is the last option BDO want to take as it would result in the least amount of return and it would very likely all go to Metro bank.
When it comes to selling the business, BDO say they had 331 expressions of interest of which 242 were from people within the trade and 89 were from investors. Of those 169 progressed it further (152 trade and 17 investors), which ultimately resulted in 29 formal offers for all of the assets being submitted by February 21. BDO examined those offers and eight of those were progressed to phase two where additional info was provided as well as site visits.
It's worth noting at this point that BDO say Norton's accounts are incomplete and inaccurate in parts and they're also still awaiting the Statement of Affairs from the directors. All of the eight interested parties have requested more information on the IP holdings of the company, which required BDO to instruct specialist IP lawyers to get to the bottom of exactly what Norton does and does not own.
They have also had to instruct Hilco to put a value on the IP of Norton and the US arm, Norton LLC. The official book value for both was £6.7 million however reality is likely to be different. The final deadline for best offers was March 25 with a view to concluding a transaction as soon as possible after, although BDO say they cannot comment on any of the offers at this stage for fear of prejudicing the sale.
But could that sale happen? Well, rumours abound that there is a significant bid on the table and that a deal – while not yet done – could be announced imminently. The name most often touted is Indian giant TVS, but no-one who could confirm the possibility is willing to offer either confirmation or denial.
Watch this space.
---
Norton debts revealed – the missing millions
Norton's administrators have revealed the company owes more than £14 million and 466 customers who paid a deposit for a bike won't be getting their machine or any cash back.
Norton Motorcycles, Donington Hall and the Priest House Hotel all went into administration on January 29, 2020 and this is the first time the firm running that process, BDO, have officially revealed any results from their investigations.
And while BDO's Creditors' Report revealed there had been 331 'expressions of interest' in buying Norton, the report also said: "It is NOT considered that the company will be rescued as a going concern."
The report reveals that on December 2, 2019, BDO were called in to make a high level review of the short-term cashflow forecasts for Norton and Donington Hall. The review was completed on December 19, 2019 and found that the company would be unable to trade and pay creditors. Neither the company's shareholders or Metro Bank were in a position to provide the extra funding needed.
The directors, led by Stuart Garner, tried to find funding or a buyer for the business. When that didn't come to fruition, Metro concluded that there was no choice but to appoint administrators in the best interest of the company's stakeholders and employees and to seek to recover its debt.
Metro bank is the only listed Secured Creditor, which means it is first in line for any proceeds from the sale of the company or its assets. It is owed £4.04m by Norton Motorcycles and £3.07m by Donington Hall Estates. The next in line are the Preferential Creditors, which are basically the 58 staff working at Norton. They are entitled to a maximum payout of £800 each, which totals £46,400.
Then come the Unsecured Creditors. This list includes HMRC (£695,097) and customer deposits of £3,375,167. The report makes it clear that "this money was not ring-fenced and therefore no funds are available to return to impacted customers from this source".
BDO said in the report that the stated Unsecured Creditor total owed is £6,232,828, but adds: "The company's books and records may be incomplete, including potential factual inaccuracies and omissions.
To date the Joint Administrators have received unsecured claims from creditors totalling £7,195,689." So, added to what Metro bank is owed, the total stands at a hefty £14,352,089. And that's without considering the pension investors, which reports have claimed is another £14m.
The report also reveals that there were 69 bikes in the company's ownership; 15 in for servicing, 14 'work in progress', 13 owned by Norton, nine in for warranty work, five show bikes spread around the world, one 'location unknown', one pre-production machine and three owned by third parties with claims of ownership received.
The report also states that any bikes at the Norton factory for servicing and/or warranty work have been returned to customers where requested. The 'work in progress' status relates to motorcycles that were in the early stages of production. There were not completed motorcycles that were awaiting collection by customers. And anyone who has paid a deposit will be devastated by BDO stating: "Notwithstanding that deposits have been paid to the company prior to the administration by specific customers, the Joint Administrators are advised that title to these motorcycles has not passed and that ownership of the part-built motorcycles therefore remains with the company."
Despite much speculation previously about a fleet of expensive cars, the report makes it clear that of the 12 vehicles involved, six were subject to purchase agreements and are in the process of being returned. Three are being investigated and three that are owned by the company are being sold as part of the assets sale.
The report also revealed that the Joint Administrators have instructed the Forensic Science team of BDO to assist in their investigations including, but not limited to, the events leading up to the Joint Administrators' appointment of all companies in the group. Investigations are ongoing.
The report also shows that the company is owed £860k, with two of these debtors amounting to £798k, although recovery remains uncertain. It also estimates the company's Intellectual Property rights to be worth £5,237,572 and North American subsidiary company Norton America LLC to be worth £1,532,313, although specialists Hilco Streambank are currently working on valuation of the company's IP properties.
While the report does make Norton's debts clear, it remains to be seen whether a buyer for some or part of the company will come forward and who will get what when that sale takes place. Another report is expected from BDO in the near future.
MCN approached Stuart Garner about the findings, but he declined to comment on the BDO report.
Garner's other companies under scrutiny
Donington Hall Estates Ltd and the Priest House Hotel Ltd were also part of the administration process as Stuart Garner was a director of both companies. Donington Hall has a 'net book value' of £3.27m, although the Administrators have been made aware by Leicestershire City Council that certain planning restrictions may have been breached on the site.
Hastings House (where the Norton factory is based) has a 'net book value' of £1.4m.
Metro bank is owed £3.07m by Donington Hall Estates and Leicester City Council is owed £993k. Both will be paid from proceeds of any sale.
The nearby Priest House Hotel was also put into administration, but has been trading under management of another hotel group since January 29, 2020.
The report says: "The Hotel had latterly struggled to generate sufficient revenue to meet ongoing trading obligations and loan repayments. The Hotel appears to have had a history of cash flow issues. We remain optimistic that a going concern sale will be achieved."
---
Chinese firm bought rights to 961 engine platform
Norton sold the rights to the 961 engine platform before the company went into administration, it has been revealed.
Chinese company Jinlang, who make scooters and 125cc machines, say they did the deal with Norton's owner Stuart Garner at the end of 2019. Metro Bank called in the administrators on January 29 after a search for investors proved unsuccessful.
But Jinlang say the deal for the 961 engine platform, including all of the engine tooling, is not part of the administration process as the deal was already done.
There are photographs of the Jinlang Science and Technology Co LTD company director, Huacong Wu, signing a contract with Garner at the end of December.
A spokesman for Jinlang said: "We will work with our design partner in Italy to develop a new motorcycle using the 961 engine, which we will sell worldwide."Jinlang also produce engines for Zongshen, another massive Chinese motorcycle brand, and Polaris, who own Indian.
The Chinese firm's scooter brand Ariic makes over 300,000 machines a year and the company sells over 800,000 engines. Numbers are not yet confirmed for the Norton 961-engined motorcycles, but we could see creatives by the end of this year.
Also, there's no word on what Jinlang paid for the 961 engine platform's IP rights, tooling and jigs, but it obviously wasn't enough to stop the Donington-based bike builder going into administration. BDO are expected to complete their audit of Norton's assets and issue a statement to the creditors imminently.
Garner is also being investigated by the Pensions Ombudsman after 30 investors complained over the way three different schemes were run and after a hearing in February, which the Norton boss failed to attend, will issue a ruling in May.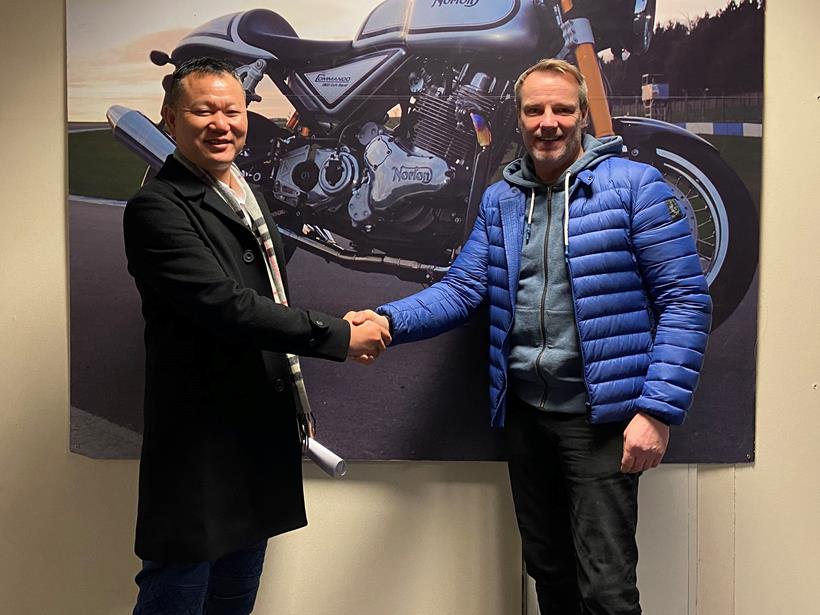 And Garner is now also being investigated by the Pensions Regulator after some MPs voiced concern over the lack of action.
Norton owner Stuart Garner was a trustee of three schemes linked to the Leicestershire-based company. MPs from the Work and Pensions Committee have previously written to The Pensions Regulator (TPR) expressing concerns.
Their letter said: "The arrangement began in 2012. Could the Pensions Regulator have acted before May 2019, some seven years later?"
It also said: "The previous trustee, Mr Garner, of the Dominator 2012, Commando 2012, and Donington MC pension schemes, was also CEO of Norton Motorcycles Holdings Ltd, and was replaced by an independent trustee in May 2019," the letter said.
The Pensions Ombudsman has already heard evidence at a special hearing in February after 30 complainants, some facing losses of up to £170,000, and will rule in May over whether Garner is personally responsible for any breaches in pensions guidelines.
---
Calls grow for public inquiry into Norton
Following new details about the Norton collapse and boss Stuart Garner's failure this week to appear before The Pensions Ombudsman, calls are growing for a public investigation into the whole affair.
Norton Motorcycles went into administration last month leaving hundreds of customers and pension-savers potentially millions of pounds out of pocket, even after a series of high-profile Government-backed loans and grants, plus public endorsements by the likes of Theresa May, George Osbourne and Vince Cable.
This week, The Guardian published a report by administrators BDO that revealed Norton owns a fleet of luxury cars valued at just under £800,000 including six Aston Martins. It also revealed that, in the year up to March 2018, Garner had borrowed £160,000 from the company, a loan that appears to still be outstanding.
Now, the chair of parliament's public accounts committee is calling for an official investigation into the Government's funding of the company. Meg Hillier MP (Lab) accused officials of 'blindly pouring' millions of pounds into the ailing company and said she intends to write to the Government to ask for an enquiry into why Norton failed.
Following the company's collapse, it came to light that over 200 innocent people had lost their pensions when, they, claim, they were misled into converting them into Norton shares. One, Carol Wicks, is owed more than £170,000.
MCN has also heard from Norton V4 SS buyers that their bikes had been stripped while back at the Norton factory undergoing warranty work. Those distraught owners had been sent pictures of their bikes by the administrators BDO.
Garner himself failed to appear in front of the Pensions Ombudsman in London on Thursday.
MCN's last contact with Garner was on January 31 when he said he was "devastated" for everyone associated with the company and claimed that he had "personally lost everything", blaming the company's failure on "a growing tax burden and ongoing uncertainties over Brexit affecting many things like tariffs, exports and the availability of funding".
The Pensions Ombudsman will now deliberate on the case and make a preliminary decision and then a final determination. This could take three months, but he could hold Stuart Garner personally responsible for the issues relating to the pension schemes.
Separately the Pensions Regulator will decide whether there is a criminal case to answer.
Norton Motorcycles faces collapse as the firm enters administration
Norton Motorcycles have been placed in administration as last-minute attempts to save the business appear to have failed to secure the backing needed to continue trading. The firm launched a share scheme in November with a view to raising the cash required to fulfil their order book, but the lure of a single investor saw the offer withdrawn while Norton attempted to construct a deal that could underpin the business' critical cash-flow problems.
With echoes of the near-collapse of the business in 2012 when cash-flow issues very nearly sank the firm just four years after businessman Stuart Garner bought the rights back from American ownership under Kenny Dreer, it appears that the same problem has finally pushed the business past breaking point as Metro Bank appointed administrators BDO.
Investment in the development of the V4 SS and RR models, first unveiled in 2016, proved to be a hugely expensive undertaking for a brand starting from scratch in terms of superbike chassis, engine and electronics technology. But while the limited edition V4 SS sold out rapidly at the £44,000 asking price, forcing those not fast enough to plump for the lower spec V4 RR at £28,000, the cash-flow needed to set-up – and then buy parts from – the supply chain to build the models at the Donington Hall factory simply wasn't there.
Despite already struggling to deliver the V4 model, Norton knew they had to invest in the next new model in the range – the more mass-market and affordable 650cc parallel-twin Atlas Nomad and Ranger, first revealed in 2017.
If successful, the Atlas would have given the firm the higher volume, lower cost model needed to deliver a consistent cash-flow for the business. But despite the final prototypes showing huge promise and the first bikes being available for customer test rides over recent weeks, it's been too little, too late. The new 12,000sqft factory extension intended to house Atlas production isn't finished and production hasn't started.
Throughout the twelve-year history of the reborn brand, Norton targeted the Isle of Man TT with their improving series of SG race bikes, using a mix of Norton chassis development with Aprilia V4 power. Starting on the island in 2012, the aspirational racing programme was always intended to be the proving ground for the road-going V4 family and delivered the team a creditable best finish of 5th in the 2018 Senior in the hands of Josh Brookes. While their racing activity delivered the testing and data they needed to build the V4, the cost was also significant – and it's believed Norton had no plans to race with a factory supported team at the 2020 event, while Peter Hickman and the Smiths Racing team announced last month that they would race a Norton Superlight.
MCN revealed just three weeks ago that Norton were facing a serious challenge from HMRC over £300,000 of unpaid taxes (more on that story below), while the firm asserted that much of this outstanding figure would be significantly reduced through outstanding research and development tax relief owed to the company. The courts had adjourned the case, the next hearing was scheduled for mid-February.
It's understood that the senior Norton team were still negotiating with their anticipated foreign investor at the beginning of this week, but confirmation came today that Metro Bank had appointed administrators BDO.
Norton CEO, Stuart Garner, was unavailable for comment as the news broke – we'll bring you more information as we have it.
Who are Norton? A potted history of a famous marque
Founded in 1898 by James Lansdowne Norton, the first Norton Motorcycle appeared in 1902, and a mere five years later famously took Rem Fowler to victory in the twin-cylinder class at the very first Isle of Man TT races. In 1907 Norton started production of their own engines.
Fast forward through two World Wars, and almost 100 TT victories, and the ignominious collapse of the British bike industry, and ownership eventually travelled across the pond for 15 years to Oregon-based Kenny Dreer, whose aspirations for rebirth saw him get close to launching a new Commando. But it wasn't to be and in late 2008 Garner stepped in and brought Norton back to Britain.
Learning from the lessons of Dreer's attempted brand reinvention, work started on re-engineering the Commando 961 prototype immediately. "This isn't some kind of romanticised return for Norton," Garner told MCN back in 2008. "I am serious about this. I want it to be a proper bike firm producing niche motorcycles."
The Commando that emerged a year later and was delivered into the hands of expectant customers in 2010, was not without its problems. Garner's commitment to setting up a largely UK supply chain also nearly sank the firm's nascent return.
But with dogged determination, the problems were gradually ironed out, and the original Commando 961 was replaced by the far more resolved MkII in 2015, two years after the firm's relocation to Donington Hall and Hastings House. Numerous limited-edition models followed using the 961 platform, rejuvenating old names with the Dominator and Domiracer, while special versions of the Commando (California, Street, Breitling) also followed.
The firm revealed the V4 SS and RR in 2016, with first bikes being delivered to owners in 2019. The 650cc parallel-twin Atlas Nomad and Ranger were revealed in 2018, with the model now almost production ready at the point of the business being placed in administration.
The global reach extends as far as Australia, Hong Kong, Jordan and the USA with Norton exporting around 80% of their new bikes, and production was claimed to be creeping towards 1000 units per annum.
Get more on the Norton Motorcycles financial issues back story below, as MCN covered events from breaking ground at their new factory, right up to today's news…
Norton Motorcycles in court over £300,000 in unpaid taxes
Representatives from Norton Motorcycles appeared at the Insolvency and Companies Court in London yesterday to contest a winding up petition regarding £300,000 of unpaid taxes.
Norton's owner, Stuart Garner, says he is working with HM Revenue and Customs to resolve the matter, claiming the money owed is largely covered by outstanding research and development tax relief currently owed to the company.
Leicestershire Live have reported that the court heard how the Donington-based manufacturer originally owed around £600,000 – however, half of that figure has now been paid.
HMRC's barrister told Judge Sebastian Prentis that because the company is making payments and the debt figure had reduced, they were seeking an adjournment, requesting 63 days for the outstanding amount to be settled.
Judge Prentis adjourned the hearing until February 12.
In late November 2019, Norton secured backing from an anonymous investor, having previously looked to raise £1m by setting aside 4-5% of the company's worth for small investor stakes starting from as little as £50.
Speaking after the hearing yesterday, Garner told Leicestershire Live: "They have extended the time we have to pay and agreed the payment we have put to them.
"This was the formality of what we have agreed over the past few months and wraps around research and development tax credits which have been delayed.
"We have paid an element of the cash and the figure left is, in essence, the R&D balance.
"It has been frustrating that the tax credits have taken so long to come through. We have spent about £13 million in R&D in the last three-four years so it is frustrating that this has taken so long."
---
Funding secured! Norton gets cash injection from single investor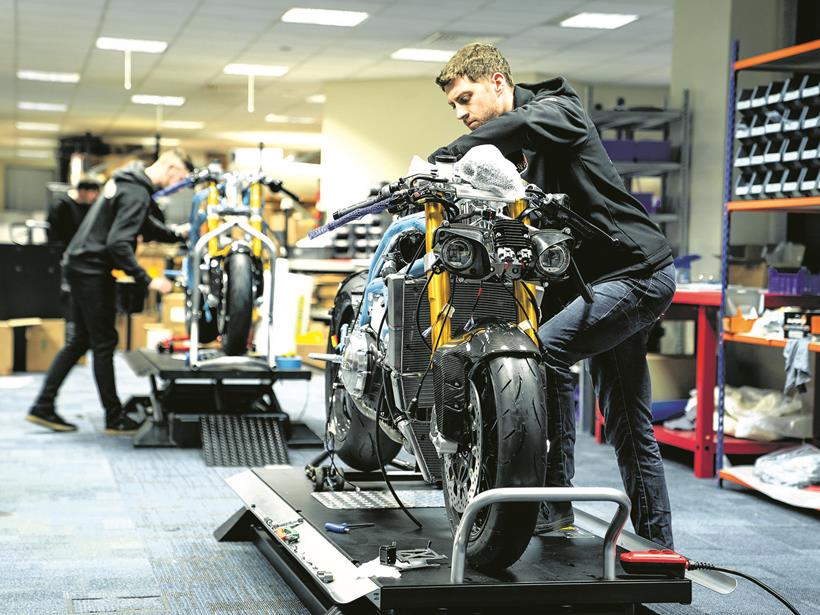 Norton have confirmed to MCN that they have secured the backing of a single investor and are no longer looking to sell smaller stakes of the company to raise capital. Full details and the identity of the investor will be revealed in the New Year.
The British manufacturer had previously sought to raise £1m by setting aside 4-5% of the company's worth for small investor stakes starting from as little as £50. No money will be taken from the almost 5000 people who had registered their interest in becoming a stakeholder – and the registration page has now been removed.
Norton have been working at capacity to fulfil its orders on models like its flagship V4 SS and V4 RR superbikes, while simultaneously launching the more affordable Atlas Ranger and Nomad 650 scramblers.
And we've also seen limited-edition models like the carbon-framed, supercharged Superlight SS and Dominator Street announced.
Norton Head of Design, Simon Skinner said: "We are focusing hard on producing the V4s and the Atlas right now and are just starting to build the Superlights with delivery starting in the New Year. Superlight SS delivery is expected to start in the middle of next year."
---
Fighting the funding hole at Norton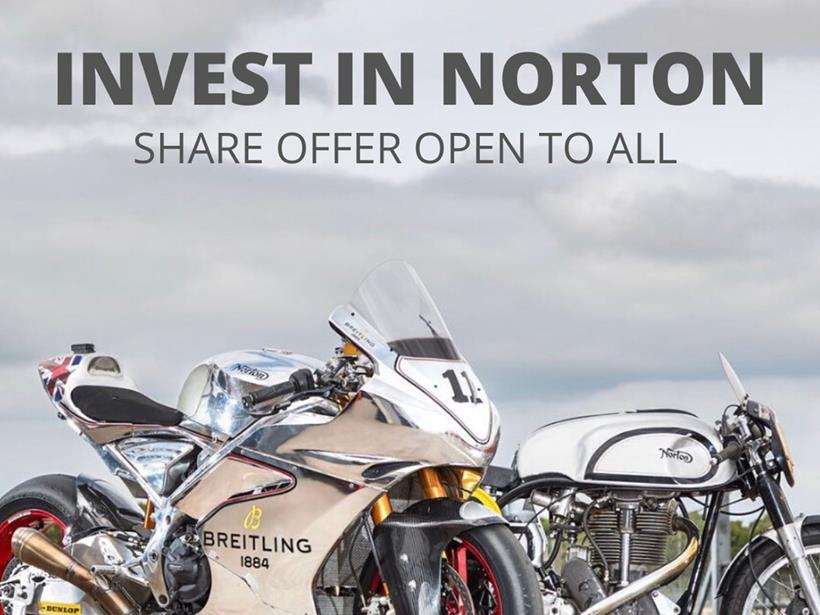 While Norton are still battling to fulfil orders of current models, owner Stuart Garner is adamant that things are on track, and he has now appealed to the biking community to invest in Norton.
Garner said: "We are giving the people who understand Norton and motorcycles an opportunity to get involved. People can spend as little as £50 for a small stake in Norton.
"Having spoken to the big bankers, they just don't get it. We are turning to our own people. We will set aside 4-5% of the business to help us raise around £1m of capital.
"We already have £1.5m from the Midlands Engine Fund and with community investment, we can move forwards. We have a full order book and the response has been brilliant so far. We've been here 10 years and we're still growing and building amazing bikes."
---
Norton looks for investment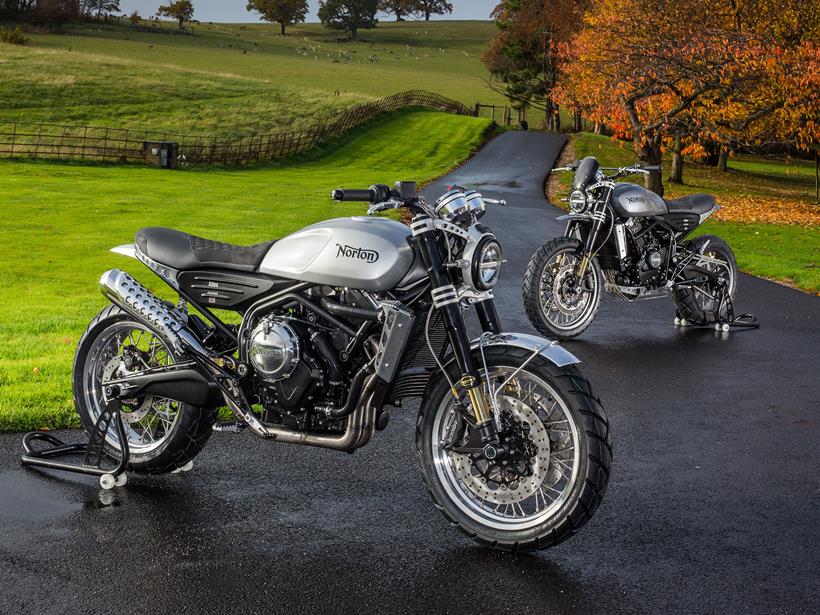 Norton are seeking £5m of investment to help fund the building of the new factory at their Donington Park site and to speed up production of its new Atlas range; the 650 Nomad and Ranger twins.
Garner added: "We are talking to banks, financial institutions and individuals in a bid to find one investor to take up this opportunity. It could mean that the investor owns some equity in the company or it could be a loan of some sort.
"If the deal does become an equity arrangement, it will be a minority holding as I am keen to retain control so that I can continue to drive Norton forwards. We are in talks with several interested parties already and hope to make an announcement soon. We have a full order book for the new Atlas, plans for more new models and the future is very bright."
Garner expects the new factory to be finished by the end of September with full production of the Atlas range moving into the new facility. Early Atlas models are being assembled on the current production line with deliveries planned to begin in October.
Norton are also still in full swing fulfilling orders of the V4 superbike. Garner explained: "Nearly all of the Norton V4SS (£44,000) orders have been completed and we are about to really ramp up production of the RR (£28,000). We are a little behind as this is a complicated machine to build, but we have now got our supply chain sorted and expect to turn things around pretty quickly now."
---
Norton Breaks ground on factory extension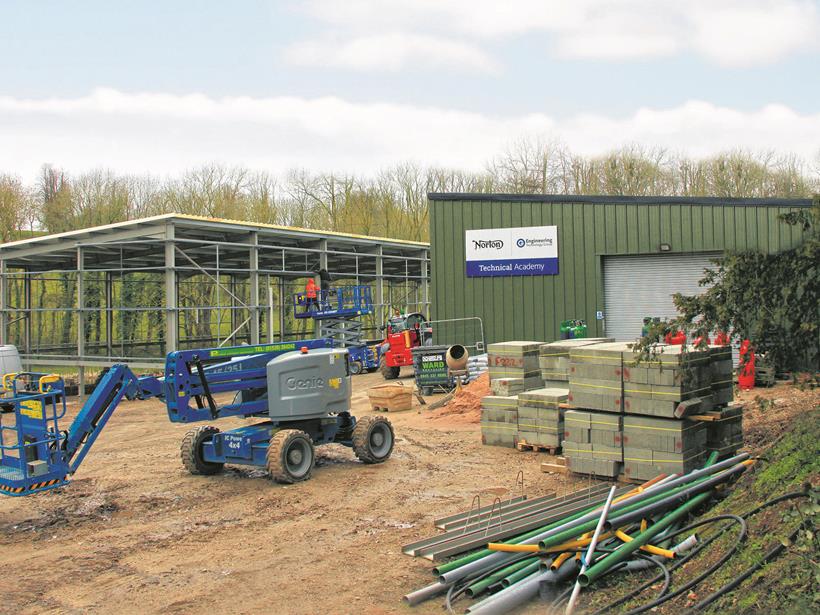 Norton Motorcycles are building a huge addition to their existing factory in order to gear-up for production of their new range of affordable Atlas 650cc models.
The 12,000 square-foot extension to the firm's existing base at Donington Hall will enable the Derbyshire bike builders to massively increase their production capabilities, moving much of the assembly line from their existing buildings into the bespoke production facility.
While V4 SS production is now moving at pace, the core of the new facility will be used to build the all-new Atlas Nomad (£9995) and Atlas Ranger (£11,995), which share a new 650cc parallel-twin engine, chassis and electronics package, but differ in styling. The pair are aimed at road riders who want to be able to duck down the odd greenlane at the weekend, with the taller Ranger being the more off-road focused of the duo.
"The manufacturing of parts, welding, CNC machining and paint-shop will remain in the Technical Academy building," Norton CEO Stuart Garner told MCN, "while assembly and stores will move into the new factory. There'll also be a bench dyno and engine test cell which allows us to take an engine from design all the way through development and into a customer's bike all in-house.
"The new factory allows us to increase our production capacity to 5000 units per year (4000 more than current – Ed) – and if we need more, we can join the two wings together. We're planning to double production over the next couple of years and then again so that by 2023 we could be at that 5000-bike production figure."
Atlas prototypes are now undergoing full testing, while the race department are putting their efforts into getting the V4-derived Superlight 650 ready for the Lightweight TT. The Superlight will also be sold for road and race use, while Atlas 650 deliveries are expected to start this Summer.